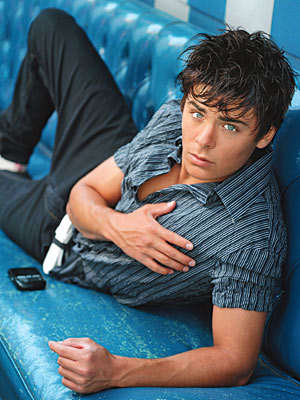 By e-mail request, we have more "Top 10 Funfacts" for you all. Today, we talk about Mr.
Zac Efron
.
Zac Efron is given sole credit for Troy Bolton's vocals on the

High School Musical

soundtrack. However, he had a very limited singing role in the movie. The majority of Troy's vocals were provided by songwriter and singer

Drew Seeley

. In

High School Musical 2

, Zac provided all of Troy's vocals.

Zac Efron initially denied dating

Vanessa Hudgens

, his

High School Musical

costar, and was rumored to be dating

Ashley Tisdale

as well. In spring 2007, pictures of Zac and Vanessa on a tropical vacation was used as their "coming out" as a couple.
Zac was the first

High School Musical

star to be recognized among a wider audience with his role in

Hairspray

. He became one of the biggest celebrities in summer 2007. Vanessa Hudgens soon followed in the fall, as did Ashley Tisdale.
Despite his participation in several musicals, Zac has clearly stated numerous times that he considered himself an actor, not a singer.
Zac was set up on the popular celebrity pranking show

Punk'd

. In the episode, he and Ashley Tisdale are shopping when Zac witnesses someone stealing an item of clothing after he was put in charge of watching the store.
Perez Hilton, a celebrity blogger, dubbed Zac Efron "Zacquisha" in order to force Zac into admitting to his homosexuality, a topic that has been disputed among fans.
Zac Efron is the source of salary disputes between the

High School Musical

actors and Disney before signing on to film

High School Musical 2

and

High School Musical 3: Senior Year

.
On January 15, 2008, Zac was hospitalized at Cedars-Sinai Medical Center in Los Angeles for a emergency

appendectomy.

Zac admitted to having a crush on Tyra Banks in his junior high school days. Presently, his celebrity hot list includes girlfriend Vanessa Hudgens, Paula Abdul,

Nicole Scherzinger (The Pussycat Dolls), Lori Loughlin ("Full House", "Summerland" costar), and Jessica Alba.
Zac Efron is widely considered to be one of the greatest teen idols of all time, something that he admires. However, he wants to become a respectable actor, too.